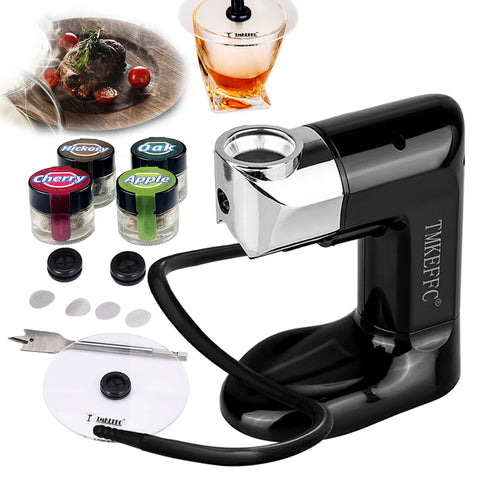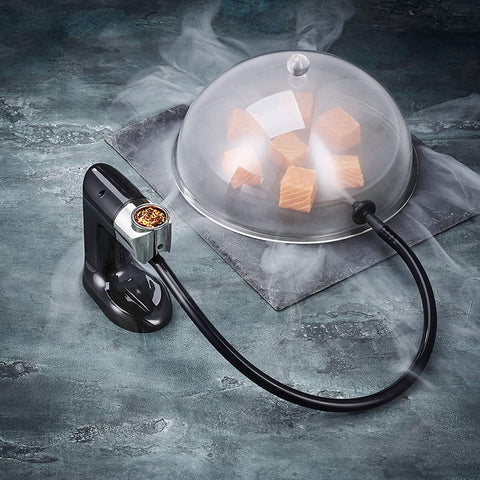 TMKEFFC
Smoking Gun IV+ (Extended Kit)
$49.99
$59.99
you save $10.00
Perfect Smoking Tools Set For Food & Cocktails
Hand-held designed smoker infuser with 2 gear of smoke amount, that enables you to control the smoke speed and effect in your hand. Adds smoky flavor and aroma to your food or drinks in a short time, nice smoking tool gadget for yourself or smoky flavor lovers.
DIY Tools Set & Cup Cover & Wood Chips Included & Get Smoking Flavor Fast
Hand-held portable smoker for food and drinks with a 1 paddle flat bit and 2 rubber port included, which you can DIY your own smoking cloche / smoking container for food or cocktail. The special designed cup cover is ideal for cocktails & drinks smoking. 4 small bottles of trial wood chips(Apple,Cherry,Oak,Hickory), enables you to start your first smoked delicious right away.
Natural Smoke Flavor & Cold Smoke
An smoking gun use real wood chips, tea, herbs, spices, hay, dried flowers, produces cold smoke for your food or drinks without changing their texture or temperatures. Away from strong fire burning and smokey, just enjoy natural and authentic smoked food or drinks and away from artificial flavors and chemicals.
Battery Operated & Widely Used
Powered by 4 AA batteries(NOT included) for use anywhere; Suitable for sous vide meat, cocktails, vegetables, cheese, veggies...suitable for your home kitchen, bar, restaurant, or outdoor use like BBQ, picnic, hiking, fishing etc. Delicately packaged. (PS: You can contact us or our brand team for an E-Book of some smoking recipes)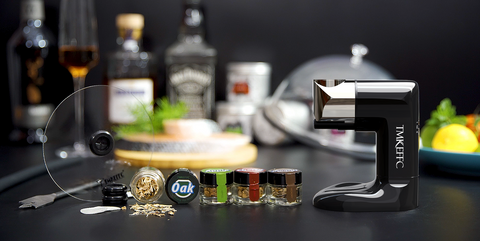 Design for PROS
Metal burning Chamber and Metal Fan you can easily clean and maintain your new Smoke infuser. And with up to 2.3 m/s Fun Speed generates intense cold smoke that is easily absorbed into food and drinks for that tender smoky flavor.
Mixers for ultimate cocktails
This ultra-reliable tool is portable, easy to handle, and includes a larger burn chamber, which is useful when creating cocktails for more than just you or a few friends. The nozzle extender hose allows users to apply smoke to a glass, bottle, or anything else you would want to integrate smoke into. It also comes apart easily — it's simple to clean.