TMKEFFC
Smoking Gun II+ (Starter Kit)
$32.00
$39.99
you save $7.99
🍸 Natural Smoke Flavor For Smoking-Lover
Infuse smoke uses real wood chips, tea, herbs, spices, hay, dried flowers. Just enjoy natural and authentic smoked food or drinks and away from artificial flavors and chemicals. (New upgrade of packaging included 1 Cup Cover, Wood Chips, Rubber Tube, Small Screwdrive, Cleaning Brush, Smoke Nozzle, and 2 Mesh Screen Replacements.)
🥩 Cold Smoke Infusion System
Away from strong fire burning and smokey! Our portable smoker infuser produces cold smoke for your sous vides meat, cocktails, vegetables, cheese, salmon without changing their texture or temperatures.
🧀 Get Smoking Flavor Fast & Easy To Use
This portable smoker gun adds smoky flavor and aroma to your food or drinks in a short time. Easy assemble, disassemble, and portable. Nice smoking tool gadget for yourself or smoky flavor lovers, for chef or bartender.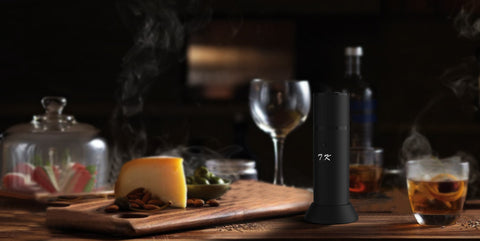 Professional Cocktail Mixer
This durable and reliable kitchen tool — which works for both food and drink — makes at-home smoking an effortless activity.
Try Smoked At Home
Cocktail smoking at home does require caution — children and pets should not be near when you're using a smoking gun — but once you get the hang of it, you can experiment with more sophisticated concoctions.